Institute of Genetics & Hospital for Genetic Diseases
Osmania University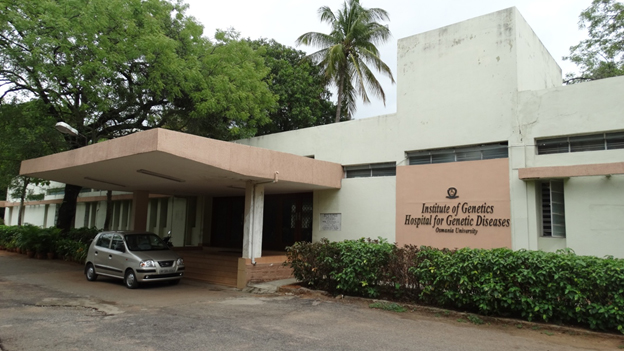 Institute of Genetics and Hospital for Genetic Diseases is a premier institute of Osmania University that offers excellent services in the field of Genetic Diseases since 1978, in the areas of diagnosis, management and counseling of Genetic Diseases.

The Institute promotes research, training and educative programs in various fields like Clinical Genetics, Molecular Biology, Cell Biology, Cell signaling  and Biochemistry.
The founder director was Prof. O. S. Reddi (1978-1988), followed by 
Prof P. P. Reddy (1988-2004),
Prof. M. P. J. S. Ananda Raj (2004-2005),
Prof. A. Jyothy (2005-2015),
Prof. N. Pratibha 2016-2017,
Prof Gopal Reddy,
Dr. A. Venkateshwari (2017-2021)
The present director Dr. B. Vijaya Lakshmi  is holding the position since November 2021.
Our Mission 
To mitigate the suffering of the families affected with genetic disorders
To delineate the genetic and molecular basis of various common multifactorial disorders like Primary amenorrhea, Developmental delay, High Risk Pregnancy, Polycystic Ovarian Disease, Non syndromic Deafness, COPD, RPL, Colon Cancer
To use advanced technologies like nanotechnology based nutritional supplementation
To enhance the awareness on Genetic disorders, their treatment and management through training programs like diploma and certification programs focusing on Clinical Genetics, Clinical Diagnostics & Management, Genetic Counseling,
Our Accomplishments
NAAC accredited with A+
As an extension service, the Institute established a school" Special Education Centre For Mentally Handicapped " for the children with Intellectual Developmental Disorders (IDDs)
National Rural Health Mission (NRHM) & Rajiv Vidya Mission–Sarva Shiksha Abhiyan (RVM-SSA)-funded Orientation program was conducted for Medical officers of all Primary health centers (PHC) covering 10 districts of Telangana State to enhance the  awareness for early detection of Genetic disorders in rural areas(2012).
Institute successfully completed AnNeSP IG, an Antenatal and Neonatal Screening Program for high-risk pregnancies and sick newborns that focused on predominant genetic disorders for early intervention and prevention of serious consequences.
The Institute is one of first to perform ultrasound scans for the High-risk pregnant women, referred by Government hospitals of Telangana State of erstwhile Andhra Pradesh. With these facilities, more than 5000 High-risk pregnancies have been screened for birth defects, Genetic Disorders and Congenital defects
Institute conducts New-born screening for the metabolic disorders viz .

Congenital Hypothyroidism (CH) 
Congenital Adrenal Hyperplasia (CAH)
Glucose 6 phosphate dehydrogenase Deficiency 

It has received 100% satisfactory report for the analysis, from the Quality Assurance Cell, Centers for Disease Control and Prevention (CDC), Atlanta 
Institute conducts research on genetic and molecular aspects in Single gene/Multifactorial and Adult onset disorders with financial support from UGC, DST, DBT, ICMR, CSIR, DAE, AP council of Science and Technology,T elangana Pollution Control Board in collaboration with various hospitals.
Institute of Genetics offers DBT Sponsored M.Sc Program in Molecular and Human Genetics and post graduate Diploma program in Genetic Counseling under Skill Development Program. And also offers Certificate Course in Clinical Genetics: Diagnostics and Management
Till date 120 research scholars were awarded PhDs and more than 600 research papers have been published in peer reviewed National and International journals.